World Book Day
A few books that have been important to me.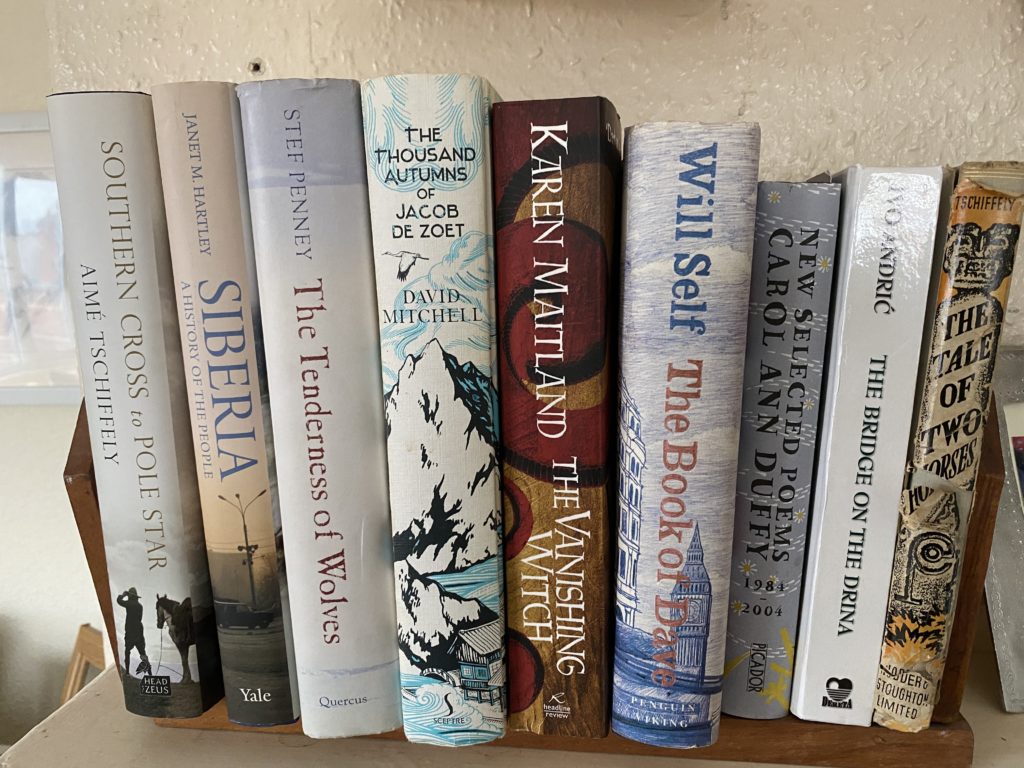 I keep this little run of books on the mantlepiece in my writing room. Each of them has a particular significance to me.
'Southern Cross to Pole Star' (also known as 'Tschiffley's Ride' ) made a huge impression on me as a child. It tells the true story of a man who rode 10,000 miles from Beunos Aires to New York City. The book at the other end of the stand is 'The Tale of Two Horses' which is the same ride told from the point of view of the horses, Mancha and Gato. I think it was this edition I read when I was eight. My imagination was fired up by the idea of just riding off and continuing, on and one, alone except for your horses, on a wonderful adventure. So much so that my mother found me one day with my piebald shetland pony saddles, bags packed, ready to go. She wisely let me get as far as the point of setting off before suggesting I might wait for better weather, so I was able to postpone my adventure without losing face. I didn't quite get to join the Long Riders Guild, but many years later (1998) I did complete a four week ride around Wales with a friend and two wonderful Welsh cobs. This became the subject of my travel book 'The Dragon's Trail'.
The book on Siberia formed a crucial part of the research I did for my novel and screenplay 'God's Children'. Stef Penney's sublime 'The Tenderness of Wolves' showed me it is possible to write of magnificent wilderness without travelling further than the British Library. I am a huge Karen Maitland fan, and 'The Vanishing Witch' is a masterclass in gothic historical writing. I sometimes find Will Self's work tough going, but I loved 'The Book of Dave' for its wild imaginings and superb use of language. I saw Mr Self at the Hay Literary festival where, complete with lit cigar, he read from his own book. Unforgettable. I heard Carol Ann Duffy perform some of her own wonderful poetry at the first festival I ever appeared at as an author myself. Her work so marvellously balances humour and depth. I read 'The Bridge On The Drina' while I was staying in Belgrade (and married to a Serb). Sadly my Serbian wasn't good enough to read it in its original language, but this book did so much to help me understand the country and its people.
I'd love to hear about some of the books that have played a significant part in your life in some way.